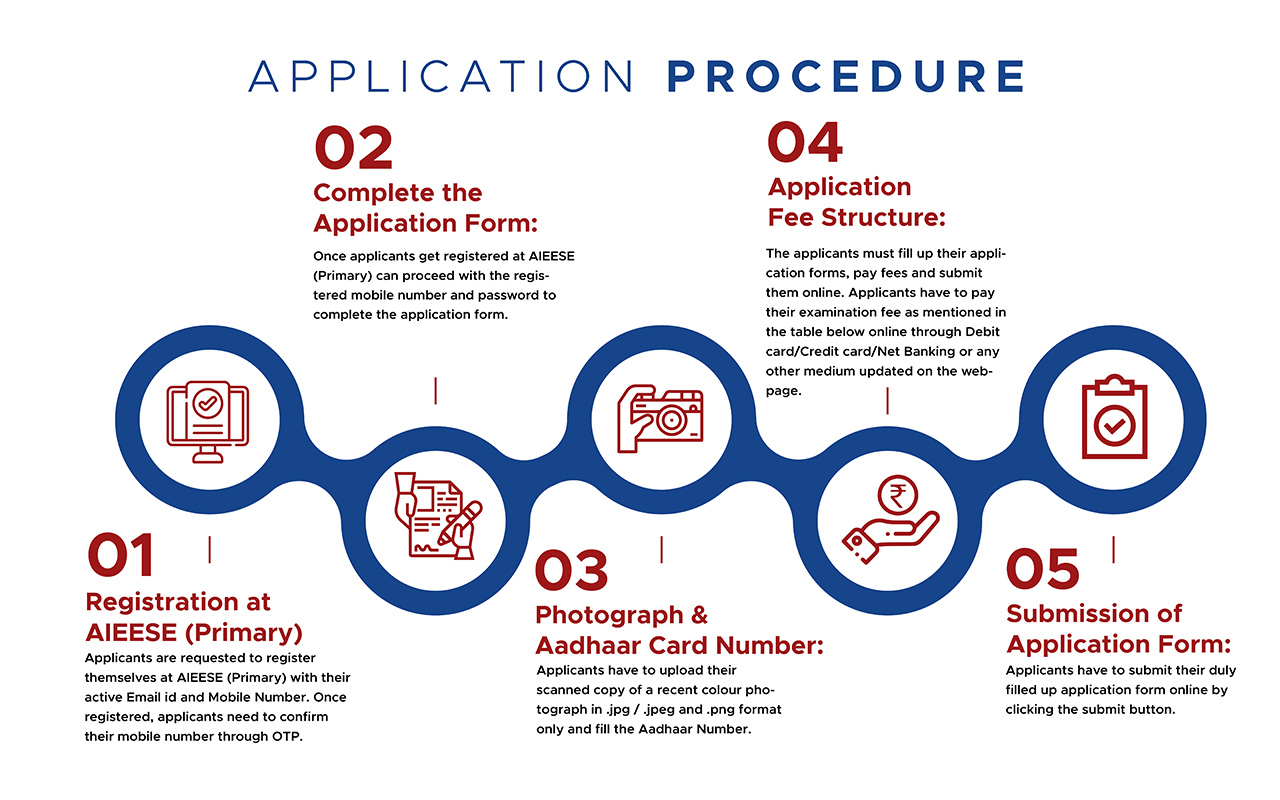 Applicants can apply Online for AIEESE (Primary) 2022.
ONLINE MODE
Step 1. Registration at AIEESE (Primary)
Applicants are requested to register themselves at AIEESE (Primary) with their active Email id and Mobile Number. Once registered, applicants need to confirm their mobile number through OTP.
Step 2: Complete the application form:
Once applicants get registered at AIEESE (Primary) can proceed with the registered mobile number and password to complete the application form.
Step 3. Photograph & Aadhaar card number:
Applicants have to upload their scanned copy of a recent colour photograph in .jpg / .jpeg and .png format only and fill the Aadhaar Number.
Step 4. Application Fee Structure:
The applicants must fill up their application forms, pay fees and submit them online. Applicants have to pay their examination fee as mentioned in the table below online through Debit card/Credit card/Net Banking or any other medium updated on the webpage.
Category

Application fee
for Indian applicants

Application fee (Including GST)
for Foreign applicants

Other charges

General / OBC

1175 /-

$ 40 /-

GST

Girls Candidates of all Category

975 /-

GST

SC/ST/PH

975 /-

GST

NRI

$40

GST
Step 5. Submission of application form:
Applicants have to submit their duly filled up application form online by clicking the submit button.
APPLICATION PROCEDURE
आवेदक AIEESE (Secondary) 2022 के लिए ऑनलाइन आवेदन कर सकते हैं। ऑनलाइन मोड
Step 1. AIEESE (Secondary) 2022 का रेजिस्ट्रेशन आवेदकों से अनुरोध है कि वे अपनी सक्रिय ईमेल आईडी और मोबाइल नंबर के साथ AIEESE (Secondary) में अपना रेजिस्ट्रेशन करें।
Step 2: अप्लिकेशन फॉर्म भरें: एक बार AIEESE (Secondary) में रजिस्टर्ड हो जाने के बाद वे आवेदन पूरा करने के लिए रजिस्टर्ड मोबाइल नंबर और पासवर्ड के साथ आगे बढ़ सकते हैं। Step 3. फोटोग्राफ और आधार कार्ड नंबर: आवेदकों को केवल .jpg / .jpeg और .png फॉर्मेट में अपने नवीनतम रंगीन फोटोग्राफ की स्कैन कॉपी अपलोड करनी होगी और आधार नंबर भरना होगा।
Step 4. आवेदन शुल्क संरचना: आवेदकों को अपना आवेदन ध्यान से भरना होगा, शुल्क का भुगतान करना होगा और उन्हें ऑनलाइन जमा करना होगा। आवेदकों को शुल्क का भुगतान डेबिट कार्ड / क्रेडिट कार्ड / नेट बैंकिंग या वेब पेज पर अपडेट किए गए किसी अन्य माध्यम से करना होगा।
Step 5. आवेदन पत्र जमा करना: सबमिट बटन पर क्लिक कर के आवेदकों को अपना विधिवत भरा हुआ आवेदन पत्र ऑनलाइन जमा करना होगा। भरे हुए आवेदन पत्र में सुधार: आप 1 और 4 अप्रैल 2022 के के बीच, भरे हुए आवेदन पत्र में हुई गलतियों का सुधार कर सकते हैं। समय 10:00 बजे सुबह से रात के 11:59 बजे तक का होगा।